Garden Design Services
Sitka Landscaping is happy to provide design services for yards and gardens of all sizes. We specialize in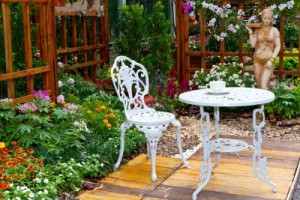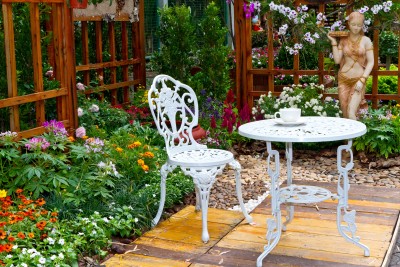 providing:
Garden, landscape, and decorative area design
Deer-proof gardens
Low-maintenance yards
Naturally low-water need yards
Garden restoration
Garden, landscape, and decorative area design
Whether you are planning a small front yard or an expansive garden, Sitka Landscaping provides design services to areas of any size or style. This includes entry-ways, decorative areas, and large landscapes.
We also provide seniors with a special service of filling their garden with new potted plants every spring.
Deer-proof lawns
Deer are majestic animals, but anyone with a garden knows the damage our grazing, four-legged neighbours can cause. Fortunately, there are safe solutions to limit the damage by deer and other wildlife in your garden.
Deer netting is a non-chemical method of protecting your plants, shrubs, and trees from deer. Netting is a low-maintenance solution that we can provide and install in your garden.
For larger areas, deer fencing provides an aesthetically-pleasing barrier for your garden. Fencing is a long-term option that keeps wildlife out of your entire yard.
We can also help you select deer-resistant plants. While no plants are completely deer-proof, these plants repel wildlife. Other plants, such as the daffodil, repel deer naturally.
Low-maintenance lawns
Some gardeners relish spending time planting, pruning, and tending to weeds, while others simply prefer to enjoy their beautiful yard. Sitka Landscaping offers a variety of options to create a low-maintenance garden or yard.
Replacing grass lawns with mulch, shrubs, and low-maintenance plants is a solution for less yard work, and when designed well can create a beautiful yard.
Stone and concrete yards are also becoming a popular alternative to traditional landscapes. Shrubs can be added for greenery and stones of different colours, shapes, and textures can be used in place of a lawn.
Depending on which plants are used, a low-maintenance yard may require weeding and pruning twice a year and watering in the summer months. A meadow-type yard that naturally tolerates some weeds and small plants is a low-maintenance solution for those wishing to keep a grass landscape.
Low-water lawns
West coast gardens receive sufficient rainfall almost year-round, except in the summer months when additional watering is usually required. Rather than constantly watering your garden, Sitka Landscaping offers a variety of grass and plant solutions that require less water to survive.
Choosing local plants for your garden also conserves water, as most are accustomed to grow when moisture is available and stay dormant during dry seasons.
Of course, a yard with no lawn is an ideal solution to conserve water. Protecting your plants with mulch helps to decrease the soil temperature, requiring less water.
Every garden and lawn has different water needs. Sitka Landscaping is happy to provide water-saving advice and services specific to your yard.
Garden Restoration
If you have an existing yard or garden you wish to restore, we are able to design the beautiful, new area you have in mind. We can make your current garden deer-proof or redesign your entire back yard.
If you have a dilapidated fence, we are able to restore the pieces needing repair rather than replacing the entire fence. We can also build a new fence of a different design if you prefer.
No matter the size or needs of your garden, Sitka Landscaping is happy to provide year-round design advice and practical services specific to your yard. Please contact us for a quote on your garden design needs, or for more information about any of our services.